Creating Personalized Work Spaces
With an increasing number of companies recognizing the benefits of the full or part-time work at home employee, it's time to explore how to spark creativity and increase productivity by creating the perfect workspace.  Studies show that work at home employees not only help to reduce a company's operating cost but also have increased productivity by as much as 13%. 
Work from home employees may credit a better work-life balance with their increased productivity. Merely eliminating the time and stress associated with long, congested commutes allows the at-home professional to schedule a trip to the gym, yoga class or a run with their teen. Productivity periods, that time of day or night that you feel most creative, productive or tuned in, also varies by the individual.  How often do you hear, I'm a morning person or I'd rather sleep in until 10 am. 
Recently my wife sent me a message stating, "I love the smell of freshly brewed coffee in the morning...And I love the sound of no one talking to me while I drink it".  She eases into her morning while I rise fired up, ready to bounce ideas and write down the answers to all the problems I solved while in and out of REM sleep. 
Conversely, the head of my design team for many years resided in India.  I recall his team murmuring about his late arrival to the office. But he never missed a deliverable and would typically call me between 2 am and 4 am his time, always fired up with brilliant ideas. 
With the many advantages also come challenges and opportunities to improve the work from home experience.
Recently, my wife and I moved from the Bay Area to the Pacific Northwest. Because our professions allow us to work from home, we each immediately started vying for the perfect work-spaces in our home. When my wife's not working, she's typically gardening, so she's created her office where she has a direct view of her garden.  On the other hand, I need lots of shelves to house the trinket and accolades from a lengthy international career.  And a television to catch part of a game when I find myself working late in the evening.  Instead of a view or television, you made proximity to children or the solitude of the basement.  Your home's space availability may be the one factor dictating that choice. 
Once you have determined the location, you must ask yourself what you need to function productively. A simple desk and laptop with all files stored in the cloud? Perhaps storage is a priority, with drawers, cabinets, and shelving. What equipment needs do you have and how can you maximize the space to house your equipment tastefully?
 You may enjoy working by the monitor light into the wee hours, many of us have and do, but the addition of proper task lighting can reduce strain on the eyes. If you are one to rise early or work late into the evening, attractive lighting can make an artful statement in both form and illumination.
 The office chair will be your throne, so choosing the right chair may be the most important decision you make for your comfort and your health. There are almost as many chairs as there are individuals with shapes, colors, finishes, and design elements to accommodate everybody's unique physical needs.
Once you have addressed your furniture and equipment needs, It's time to define your style. Take into consideration those aspects of your life that motivate, calm, or inspire you. One simple and effective way to create personal space is by using color and art. Luckily, our design team member Melissa Bolt has written a great article on Using Color to Spark Creativity. Add color and mood to your space with paint, accessories, statement furniture, and the use of a space defining area rug.
Tastefully adding interest, travel photos, and hobby items will allow you to own your space.  Indeed we are all unique individuals, and the things that inspire, excite and motivate you should be on display in your home office creating a carved out space specifically designed for you to do your best.
---
Also in News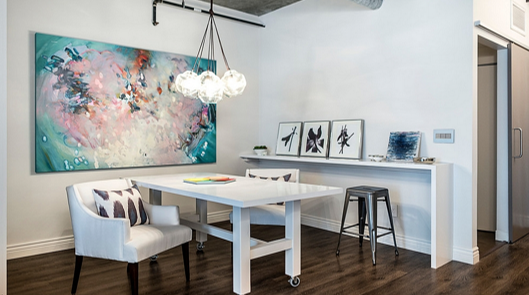 The Art of Flow talks to the uniqueness of each of us and the importance of creating a personal work space that uses flow to bring out the productive and creative you.
So how do we achieve a mood that inspires creativity?  What color(s) will spark our creativity? Well, think of the qualities that express the kind of creativity you want to tap into.  Some of us desire a frenetic, high-energy space where the colors are as loud as the music.  They can create a sense of urgency, of healthy time pressure, of bold ideas bursting forth.